Modelling structures
No matter how many structures we include in the Si8000 it seems that we never have enough! If we don't model the particular structure that you need, here is a trick that may help you to work around the problem and calculate good, accurate values.
Using virtual grounds
Consider the following broadside coupled differential structure..

Figure 1
When the tracks are driven in equal but opposite sense, the potential at every point equidistant from the two is always 0V (half way between +V and –V). We can use this to our advantage because those points form a virtual ground plane that lies exactly equidistant from each track. This virtual ground plane is shown in Figure 2 below.

Figure 2
The Si8000 does not have a structure exactly like this, but it does have the Surface Microstrip structure shown in Figure 3 below which is exactly half of it.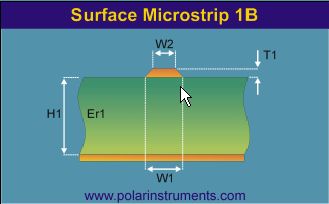 Figure 3
The track in Figure 3 corresponds to the upper track in Figure 2, and the planes correspond. By turning Figure 3 upside down, it corresponds to the lower track in Figure 2. Notice the significance of height H in the three figures.
The impedance of the differential pair in Figure 1 is the same as their impedance in figure 2, which in turn will be twice the impedance of the surface microstrip in Figure 3. (Because in Figure 1 (and Figure 2) both signal tracks are driven, one by +V and the other by –V. So the driving voltage = +V-(-V) = 2V which is double that in Figure 3. However, the current will be the same and therefore the impedance is double.)
So, to calculate the differential impedance of Figure 1, simply calculate the impedance of Figure 3, and double it. The Si8000 Quick Solver is convenient to use for this purpose, as shown in Figure 4.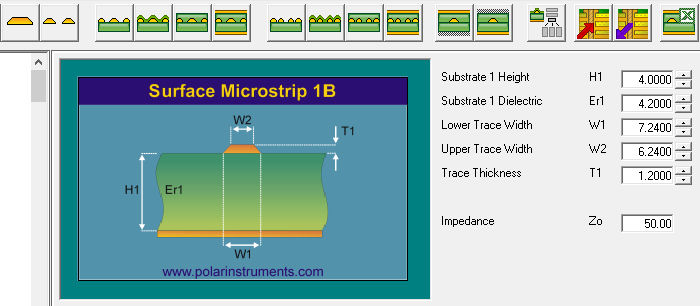 Figure 4
The impedance of the surface microstrip shown is 50 ohms, so the impedance of the broadside coupled differential pair will be twice 50 ohms = 100 ohms. Remember the H relationship.