Accessing the Polar Speedstack online material libraries
Application Note AP541
Accessing the Polar Speedstack online material libraries via a proxy server
Speedstack versions 17.05 and later provide access to the Polar Online Material Library.
This facility allows designers and fabricators to download the latest material libraries so preferred materials may be dynamically included in Speedstack's Stackup Editor as stacks are being created or modified.
When the Online Library function is called:

Speedstack connects to the Polar online library and allows the user to browse the library materials.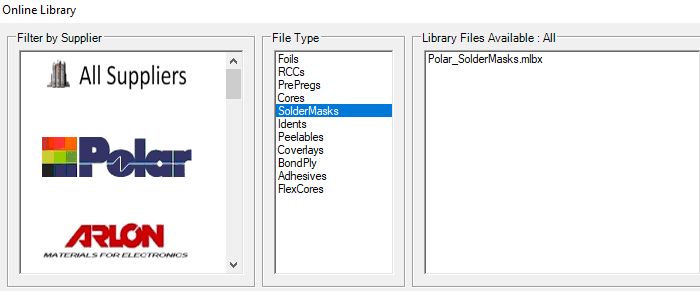 Many organisations, however, connect to the Internet via proxy servers to provide caching and controlled access. In some cases, a proxy server may return library content in a format that prevents successful download into Speedstack.
If your organisation connects to the internet via a proxy server, you may need to ask your MIS department to grant address ftp://polarinstruments.com permission to bypass the proxy server – in the event you are unable to do this we can supply you with library files for download and offline use.